Chunky Hexagon Dragon Scales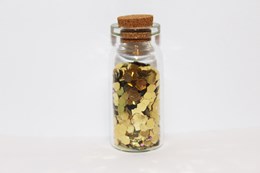 Chunky Hexagon Dragon Scales
€
8
,
50
Eindelijk zijn ze er dan!
Onze Chunky Hexagons in de kleur 'Dragon Scales'
Dragon Scales zijn goude hexagons
Dit is de maat Medium die glitters van ongeveer 5 millimeter groot.
'Dragon Scales' komt in een glazen flesje met een inhoud van 6 gram.
Al onze glitters zijn goedgekeurd voor cosmetisch gebruik.
De kleur reflecteert en schittert onwijs!
Deze Chunky Glitters zijn geschikt voor het gezicht, lichaam en haar.
Kortom dit zijn dé glitters voor speciale gelegenheden zoals festivals, bruiloften etc.
Ook voor de creativelingen en de make-up artist is dit een MUST-HAVE.

Gezicht&lichaam: Je kan een glitterprimer/glue gebruiken om de glitters te laten plakken, mocht je dit niet hebben dan
kan vaseline ook goed werken.
De glitters zijn gemakkelijk aan te brengen met een kwast of je vingers op de plaatsen waar je ze hebben wilt.
Good to Go

Haar: doormiddel van gel te gebruiken op de plaatsen waar je glitters wilt hebben blijven ze lang zitten, strooi de glitters over de plaatsen heen en verstevig met een haarlak. Good to Go
Kortom deze Chunky Glitters kunnen niet ontbreken in je stash!


Finally, they're here!
Our Chunky Hexagons in the colour 'Dragon Scales' .
Dragon Scales are Gold and are hexagons.
This is the size Medium which contains glitters which are 5 millimeters in diameter.
'Dragon Scales' comes in a small bottle which contains 6 grams.
All our glitters are cosmetically approved.
This colour reflects and shines really hard.
Those Chunky Glitters are suitable for the face, body and hair.
Shortly, these are the glitters for special occasions like festivals, weddings, etc.
For creative souls and the make-up artist is this product a MUST-HAVE.
Face&body: You can use a glitterprimer/glue to make them stick, if you not have this, you could always try vaseline.
The glitters are easy to apply with a brush or with your fingers on the places of your choice.
Now, you're good to go!

Hair: you can use a hairgel on the places on which you'd like to apply the glitters. Sprinkle the glitters on the gel and secure it with hairspray
Long story short, this Chunky Glitter NEEDS to be in your stash!!